Advertising | 800-862-2609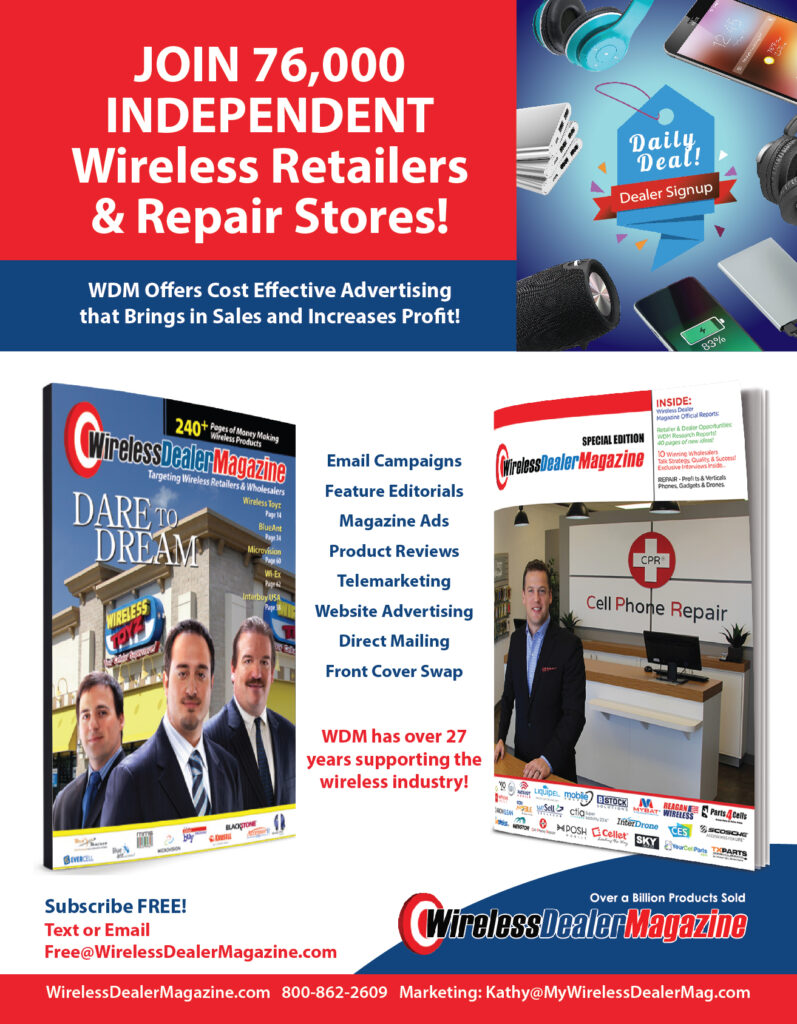 76,000+ WDM E-DATABASE CIRCULATION: 
COMPRISED OF THE FOLLOWING INDUSTRY SEGMENTS.
Wireless Phone Repair Stores – Owners & Managers
B2B Wireless Agents – Master Agents & Reseller's
Used Cell Phone Resellers – Retailers, Wholesalers, & Online Sellers
VARS, Agents, and Channel Partners
Tablet & Computer – Retailers & Wholesalers
Cell Phone Parts – Retailers & Distributors 
Online Ecommerce Wireless Stores – Owners & Purchasers
Smartphone Accessory Products – Retailers & Wholesalers 
Prepaid Distributors & MVNO – Stock C-Stores & Wireless Retailers
Audio Bluetooth & Wired – Retailers & Distributors
Wearable Smart Tech – Retailers & Online Tech Sellers
WDM Industry Trade Shows Attendee Contacts & Lists 2009 – Present

 

Wireless Dealer Magazine helps companies launch their products & services within the independent wireless & agent industry.

WDM subscribers are more successful in the wireless industry because they receive daily information on the top selling wireless products, read editorials about those companies, and have direct contacts to discuss partnership opportunities.

WDM has supported the independent wireless/agent industry for 27+ years and currently has over 76,000 subscribers!

The Wireless Dealer Magazine database is primarily updated by the WDM telemarketing department. WDM agents call new and existing companies updating contact information and subscribing new companies.
To receive information on our print magazine, online web/e-blast advertising, editorial opportunities, and advertising rates, please fill out the following information.
You can also call 1-800-862-2609 x701 or email MediaKit@WirelessDealerMagazine.com.