Modernizing The Wireless Parts Industry: YourCellParts.com Stepping up to the plate- Leave it to YourCellParts.com, the new kid on the block, to modernize the wireless parts industry!
Imagine you, the wireless repair shop owner, have been playing for the losing team.
These days, it's arduous work running a repair shop when orders take too long to set up and deliver, knock-off replacement parts and accessories permeate cyberspace, and competitive pricing is becoming more and more difficult to come by. You need someone to play for your team who can win the game.
Meet YourCellParts.com, the industry's newest, most forward-thinking supplier of high-quality parts and accessories for the hottest phones, tablets and more! Their objective is to make your life easier by modernizing the wireless parts industry, to change the way "the game" is played. It's time for the old boys to move down in the dugout—there's a new kid up to bat.
From Bench To Batter's Box
In a few classic baseball movies, there's a scene in which some young colt from the losing team proves he has more muscle in his swing than expected, hitting a stunning home run in the bottom of the ninth inning. That young up-and-comer is YourCellParts.com.
Founded in Los Angeles just two short years ago in 2014, YourCellParts.com has already proven that thinking outside the box to modernize the industry will hit the curveball time and time again, saving you the enormous headache of worrying about your supply chain while giving the customers the attention they deserve. YourCellParts.com left the bench, determined.
"We saw an inefficient use of the distribution channels that currently exists. We wanted to change the industry to make ordering parts and inventory management easier for repair shop owners so they can focus on their business," said the company's CFO, Hayk Tarkhanyan.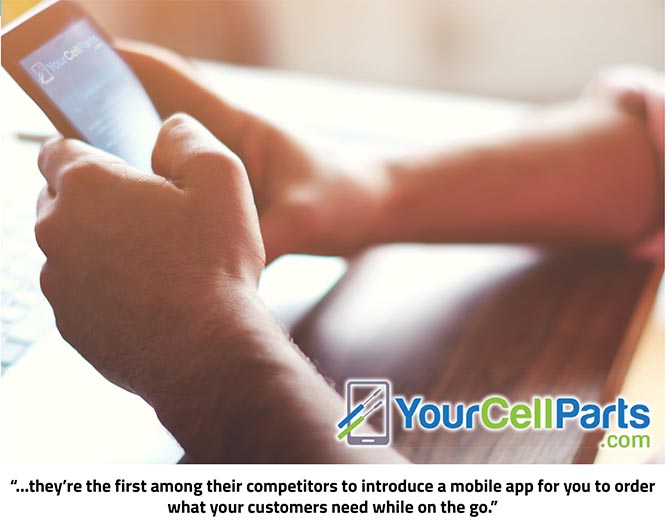 He stressed that the 21-years combined experience in the wireless and retail industries between the company's founders allows them to see business from the retailers and repair shop owners' perspective. In other words, they know what you need to run a successful repair shop: quality parts, competitive pricing, reliable service and—most notably—fast, efficient ordering.
"We saw that in the past there was a huge lack of transparency in the industry," Jaratanian said. "You never knew what you were going to get. So we decided we're going to be very transparent and tell all our clients exactly what they're going to receive. That's why we clearly indicate the quality of each item and the manufacturer that they came from on each order."
So, to recap, we've covered the company's approach to efficient ordering, quality control and transparency. But those are like stealing first, second and third base. Their competitive pricing is like stealing home. Jaratanian insists his company offers the best prices without jeopardizing product quality.
"We go straight to the manufacturers to lower cost. We have a very complex inventory management and ordering system, which allows us to pitch our sales properly to make sure we're buying parts at the most competitive prices.".
Hitting The Curveball
Wow! We tip our hats to YourCellParts. com for accomplishing what they have in such a short span of time, for taking on some of the business's toughest challenges—for hitting the curveball. We asked what's in store for the company moving ahead, what their plans are to become the best at what they do. For one thing, they plan on being the most respected name in the wireless repair parts industry, offering what Jaratanian calls a "one-stop shop" to their clients.
"We use customer feedback to carry any item that has a demand. We don't want people constantly going to three different vendors to find one item here and two items there," he said, adding, "We're constantly looking for new items to add to our inventory range."
As a proud owner of a hard-working wireless repair shop, you should be keeping your eyes open for suppliers that are using brains to change the way you'll do business for the better.
Baseball pitching legend, Bob Feller, once said, "Everyday is a new opportunity. You can build on yesterday's success or put its failures behind and start over again. That's the way life is, with a new game every day."
How true this is for YourCellParts.com. The company has seen opportunity where the industry has faltered and from that has built a second-to-none business that repair shop owners have been waiting so patiently for.