Carrier service options are not difficult to offer in a retail location. Consider BEST BUY, Target or other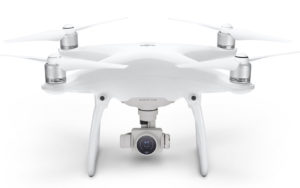 retailers who dedicate a section of their store to carrier services. Offering wireless service options does not require an upfront financial investment or have product loss issues.
Customers look to you to provide quality repair services, and they consider you an expert on phone technology. Your recommendation of a phone plan or a specific provider has weight.
Smart repair business owners should evaluate every 3 to 6 months how much referral repair business they are receiving from other carrier service provider stores. It is likely that there is a profit to be made by providing the service yourself, instead of relying solely on referrals.
Display futuristic devices
It is important that repair professionals show cus- tomers that they are knowledgeable about future products. One way to visually emphasize this is to display futuristic products (think mini-drones and VR headsets) inside the repair shop even if they are
not stocked. Why? Because the customer's perception of the repair professional as a tech professional is important for their future business.
Build new, non-repair walk-in business
Displaying a new device or two is a wonderful way to test out the sales of these products before having to stock anything. You may find yourself creating relationships with certain vendors as resellers and drop shipping products displayed in your store. Ideally, you will find a few products that will sell in your store and you can begin to stock that product and buy in bulk, which will give you a higher profit.
Create standards in your store for merchandising
Merchandising is all about presentation. If you need an excellent example of mobile presentation, check out the Apple Stores or an AT&T store. They limit their merchandise displays, but they are laid out in a manner that is sleek and pleasing to the eye and the experience. It is your job to create the standards for merchandising in your store in order to positively impact your clients.
Here's an example of good merchandising: if you want your store to look clean and uncluttered, consider hanging one display rack on the wall of accessories – don't leave half the display rack empty. That is telling the customer that you can't afford to stock your display rack or don't care to do it. And, if you don't care enough to display all of your products, restock them, or at least properly arrange the shelf, customers usually disregard the products as not worth buying, or they may conclude that you are careless with your business. This is a costly mistake.
This perception will drive more customers to your business, even if your customers choose not to buy from your clean, orderly merchandise selection.