Phone trade-in programs are used to help off-set the cost of putting your customer into a new phone or provide a trade- in cash option. It also gives repair professionals access to parts and the possibility of refurbishing items for resale. Or, a bulk amount of cell phones could be sold to a trusted reseller.
By the 2020s, as the market for smart-phones in the developing world begins to escalate, it may be worthwhile to begin buying up used smart-phones to sell to bulk buyers. Keep a pulse on your stores surrounding areas.
Note: Since the use of home phonelines and other connected phone lines continues to plummet, it is likely businesses will offer cell phones to each employee in the near future. This matters because employee job hopping is likely to increase the amount of extra smart-phones rolling around in your stores community. Especially if your store is located in a prime business area of town.
Part sourcing
Phone parts are set to fall in price considerably by the early 2020s, due to the trends outlined earlier. Until
then, independent repair shops need to remain strategic about where they source replacement parts to reduce their overall costs.
Find trusted wholesalers with access to overseas parts manufacturers, as well as consider partnering with otherindependent repair shops to pool funds and make lower-cost bulk electr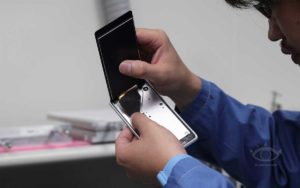 onics orders.
Harvest parts
Parts from a defective product are profitable especially given the shortages at times in the parts industry Those parts are in high demand in the resale parts device marketplace.