Over the last few years, growth in the global television set market has slowed, largely due to an over saturation of modern flat panel displays that led the switchover from analog to digital. Even so, television sets are still a $100-billion- dollar industry that is expected to grow once again in the late 2010s due to increased demand from developing nations. However, this factor is not the only thing set to fuel the TV comeback.
To generate higher margins, television manufacturers are already well underway in pushing 4K screens as the new standard, with industry analysts expecting 4K up to 42 percent of the market. Other manufacturers are marketing curved screens as a means to provide a more immersed experience and reduce glare.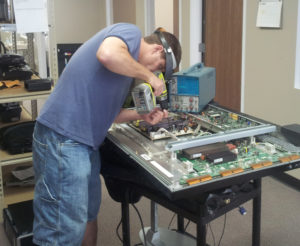 As to whether wireless repair professionals should consider adding television repair to their list of offerings, caution is advised. Modern televisions have become a relatively cheap commodity, leading consumers to replace rather than repair damaged TVs. Higher-end TVs priced between $2,000-10,000 will attract repair business, but with two key drawbacks: repairing a television requires a specific set of skills and knowledge that can't easily be self-taught; and repairing
these high-end TVs requires an investment in an entirely new set of tools, as well as a substantially larger work space than wireless repair operators need when repairing smart-phones.
Ultimately, repairing high-end TVs can be a lucrative niche to enter, but the repair professional must be confident that there is a market for this service in their area.